Laura Sutcliffe


Kate Middleton, the Princess of Wales, is turning 41 and to celebrate her birthday we have rounded up her most searched for fashion looks from 2022.

The stunning Princess of Wales always looks incredible – she's everyone's favourite fashion icon.
READ: Princess Kate's bittersweet birthday week
The mother-of-three is turning 41 next week and in celebration of her birthday, with the help of Nikita Dixon, style expert at Diamonds Factorywe have rounded up the most googled of Kate's outfits and can reveal the most interesting searched terms when it comes to her wardrobe.
WATCH: Kate Middleton's best outfits over the past ten years
Which look is your favourite?
MORE: Princess Kate's famous red coat is back in stock due to seriously high demand
The top three most common searches regarding Kate's clothes are: 'Kate Middleton dress', which has a whopping 6,600 monthly searches, 'Kate Middleton style', coming in second with 1,900 monthly searches, and 'Kate Middleton outfit' with another 1,900 monthly searches. Wow! They don't call it the 'Kate effect' for nothing!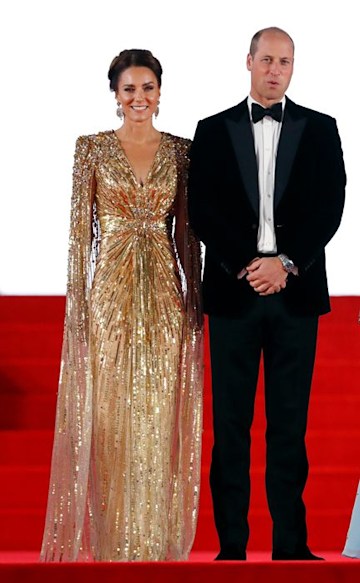 First up, which comes as no surprise, is the sequin gold gown the royal famously wore to the premiere of Bond Film, No Time To Die in 2021. 'Kate Middleton gold dress' is among the top searches, and people are still googling it today! This was an unusually daring look for Kate, which is probably why it remains so memorable to this day.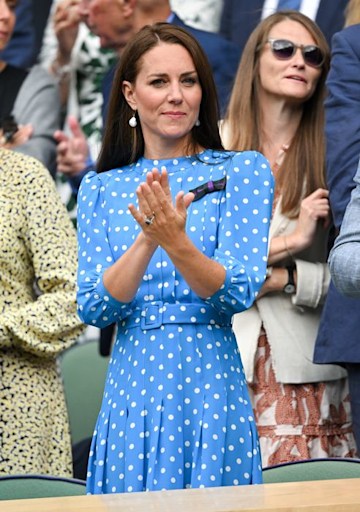 At number two, we have Kate's blue polka dot dress she wore to Wimbledon in July 2022.  'Kate Middleton blue dress' is the second most searched for of Kate's outfits, however, Kate has worn a number of statement blues over the years, so it's a little harder to decipher which dress the public has their eye on. This frock by designer Alessandra Rich is the most recent of Kate's blue dresses, by designer Alessandra Rich, and Kate accessorised with a white bag and heels to match the dress' pattern.

The third most-searched for outfit of Kate's is the 'Kate Middleton pink dress'. Once again, Kate has pulled off many pink gowns over the years, but the most stand-out piece from the last year was the bejewelled pink gown by one of her favourite brands, The Vampire's Wife that she wore during a stop at Belize during her tour of the Caribbean with husband Prince William in March 2022.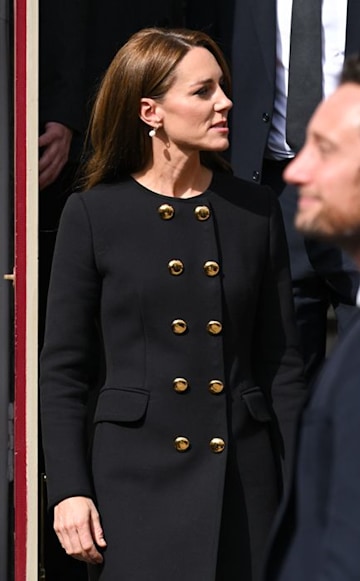 'Kate Middleton black dress' and 'Kate Middleton coat dress' both saw large search volumes in 2022, and we can guess this was users searching for some of the looks Kate wore to engagements surrounding the death of our late Queen. Though a sombre time, Kate kept classy, respectable and warm in this understated black coat dress at the first engagement following the sad news while accompanying Prince William to Windsor's Guildhall.
MORE: Princess Kate just twinned with Meghan Markle and no one realised
And finally, 'Kate Middleton red dress' appeared high on the list.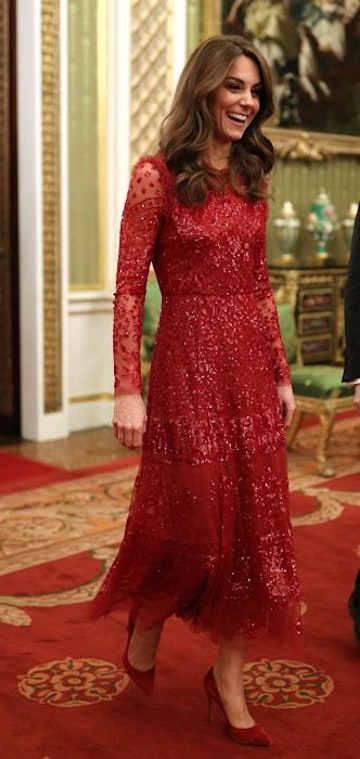 It's likely referring to the Needle & Thread dress she first wowed us in back in January 2020 to a reception at Buckingham Palace and re-wore for her 'Royal Carols: Together at Christmas' promo in December 2022.
Make sure you never miss a ROYAL story! Sign up to The Royal Explainer newsletter to receive your weekly dose of royal features and other exclusive content straight to your inbox.