India
oi-Vicky Nanjappa
Voting is underway in Karnataka and so far there have been no untoward incidents reported in any of the booths.
Early this morning voters made their way to the booths in large numbers. The scorching summer heat did not deter the voters from reaching the polling booths. This correspondent visited a couple of booths to find out how the voter enthusiasm was. People said that they were ready to stand in queue for any number of time just to cast their vote.
The booth management in general looked good with all polling officials and agents being very supportive. There was a lot of support when it came to the senior citizens. One Ashok Gera, an 80 year old was in fact quite impressive in his approach. When the people asked him to go ahead in the queue, he refused to do so and said, "I can wait and need no special attention."
Karnataka Election 2023: PM Modi urges people to vote in large numbers
The booths in general were well-managed and women and men stood in separate queues. There was no confusion that was noticed.
Unlike the previous elections, no party representative was allowed near the booths or anywhere in the vicinity. There was no last minute pitch that was made by the parties unlike the previous elections.
The cops and the Border Security Personnel who are on duty guarding the election booths looked very helpful and were guiding those voters who were finding it hard to get their slips.
Recommended Video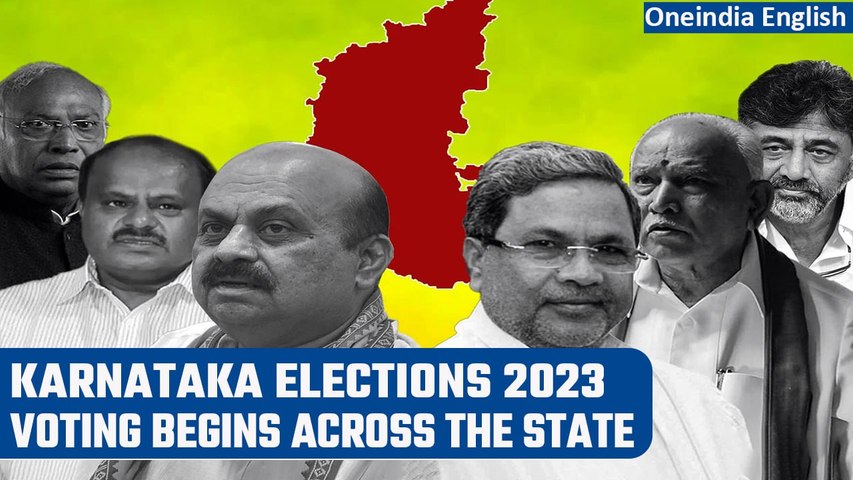 Karnataka Elections 2023: Voting begins as BJP looks to break 38-year-old record | Oneindia News
If one were to compare the earlier elections, this time the women voters were higher in number. Each one of them were seen waiting patiently for their turn to cast the ballot.
What was interesting to see this time was the camaraderie between the voters. None asked each other about who they would vote for. However there was one loud voice among all who said, 'vote anyone, but do not press that button in favour of NOTA.' Voters were seen helping each other with their slips and also discussing in general about how to use the application to download the slip among others.
Karnataka Elections 2023 LIVE Updates: BJP will win 130-135 seats, says Yediyurappa
One point of discussion that was quite common was that about how tight the elections are this time. People spoke about how resort politics may make its return in Karnataka. While speaking about resort politics, people did have a hearty laugh, but at no point in time did anyone wish for it. Overall people wanted a clear mandate and no drama this time. No more 'Kar Natak' said one voter to this correspondent.
Story first published: Wednesday, May 10, 2023, 9:42 [IST]